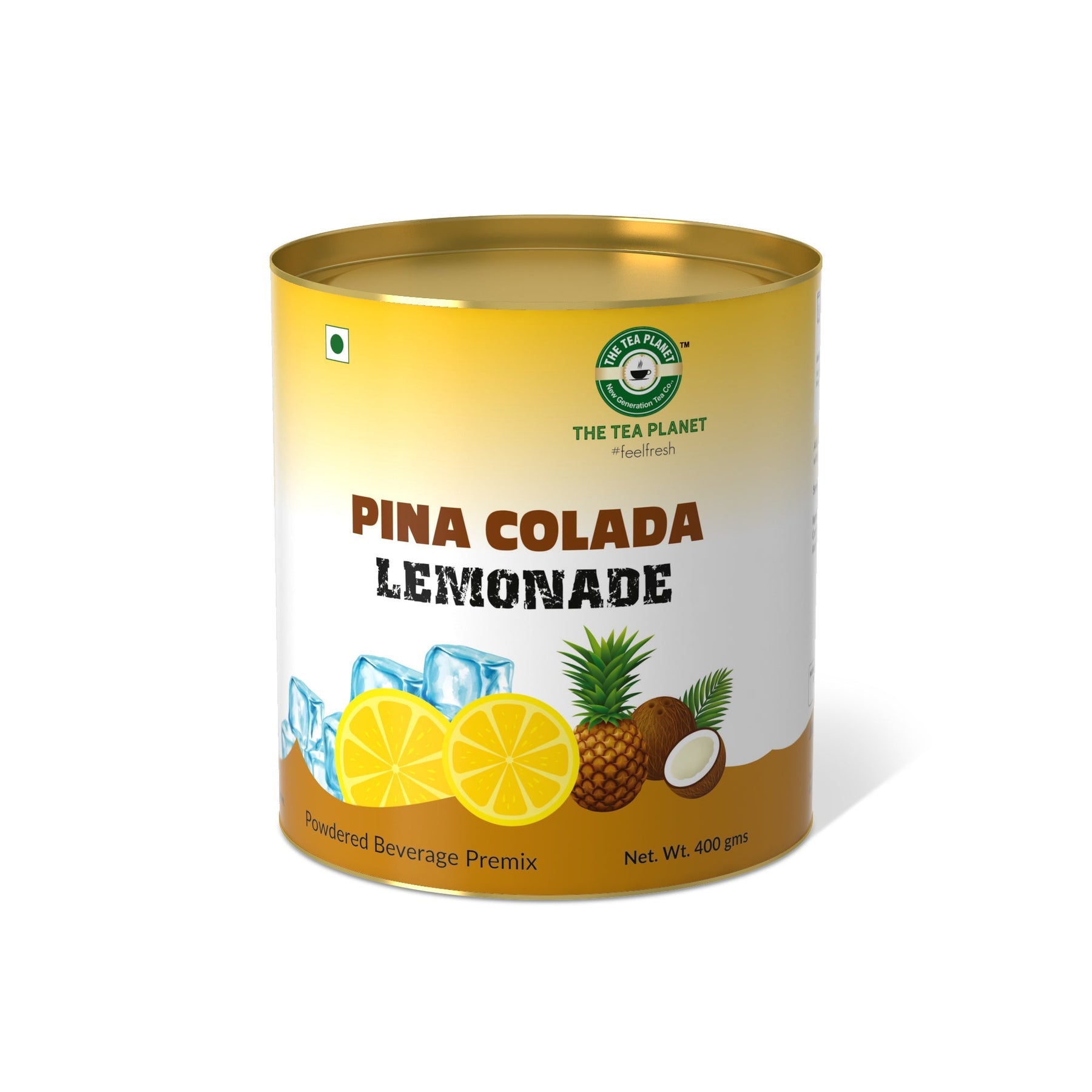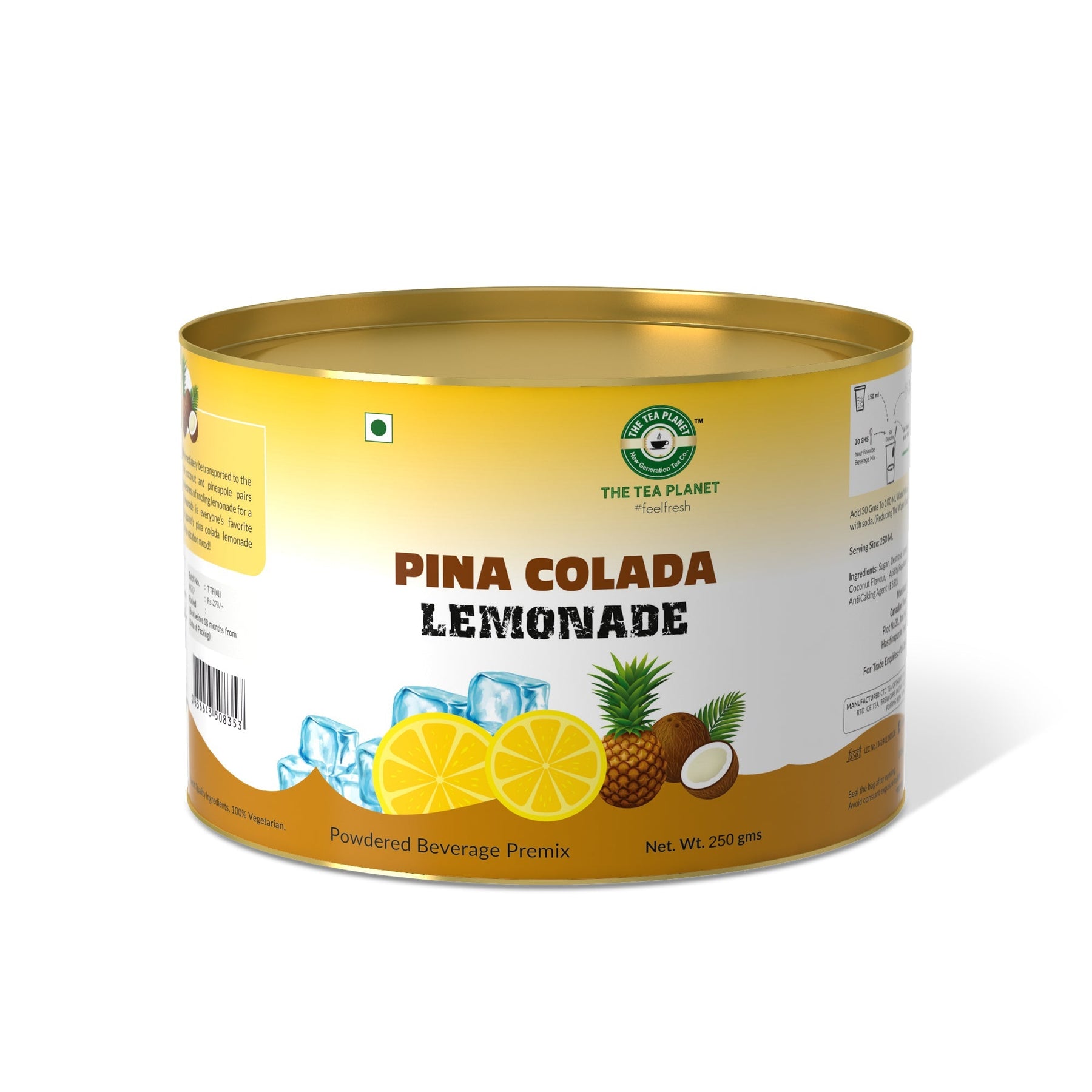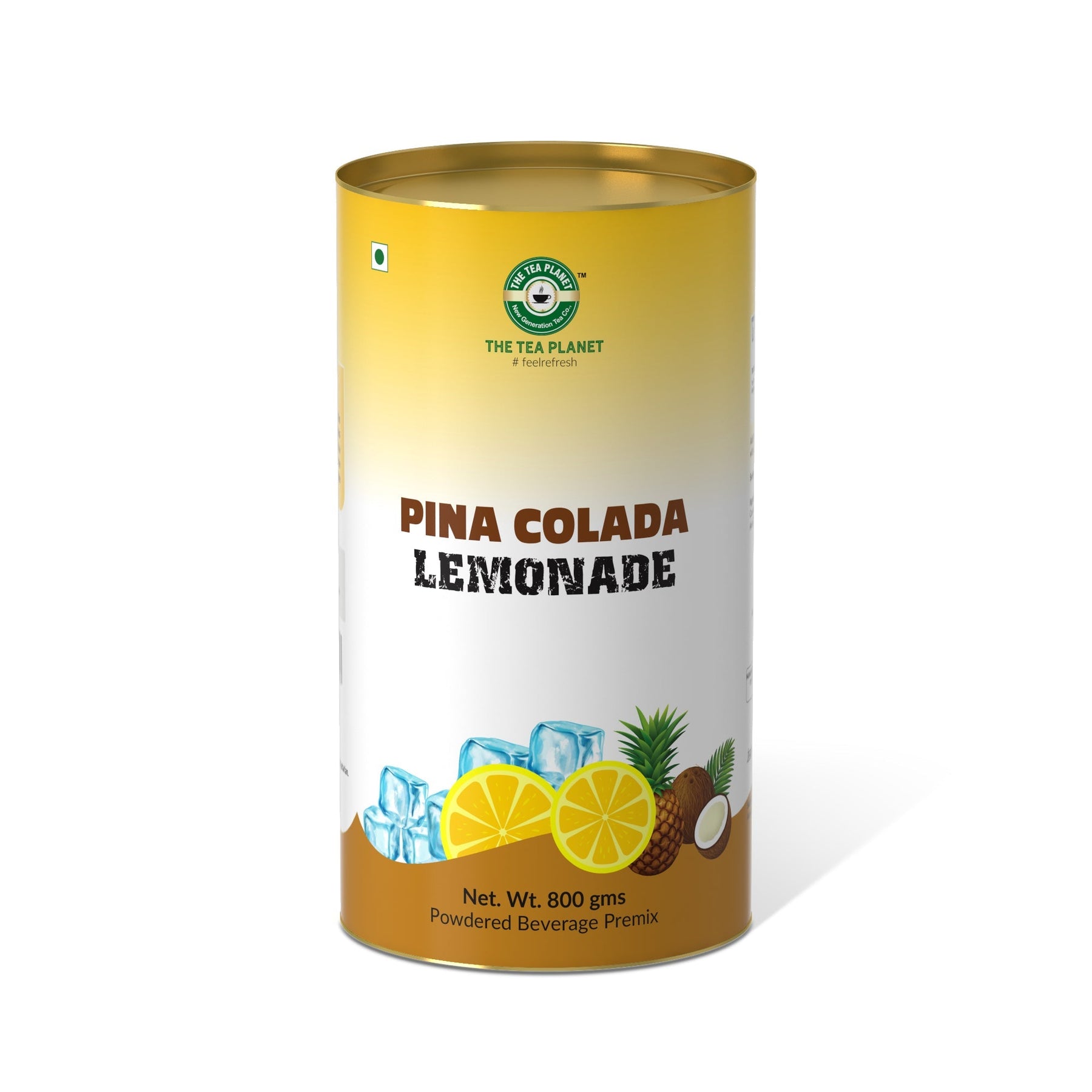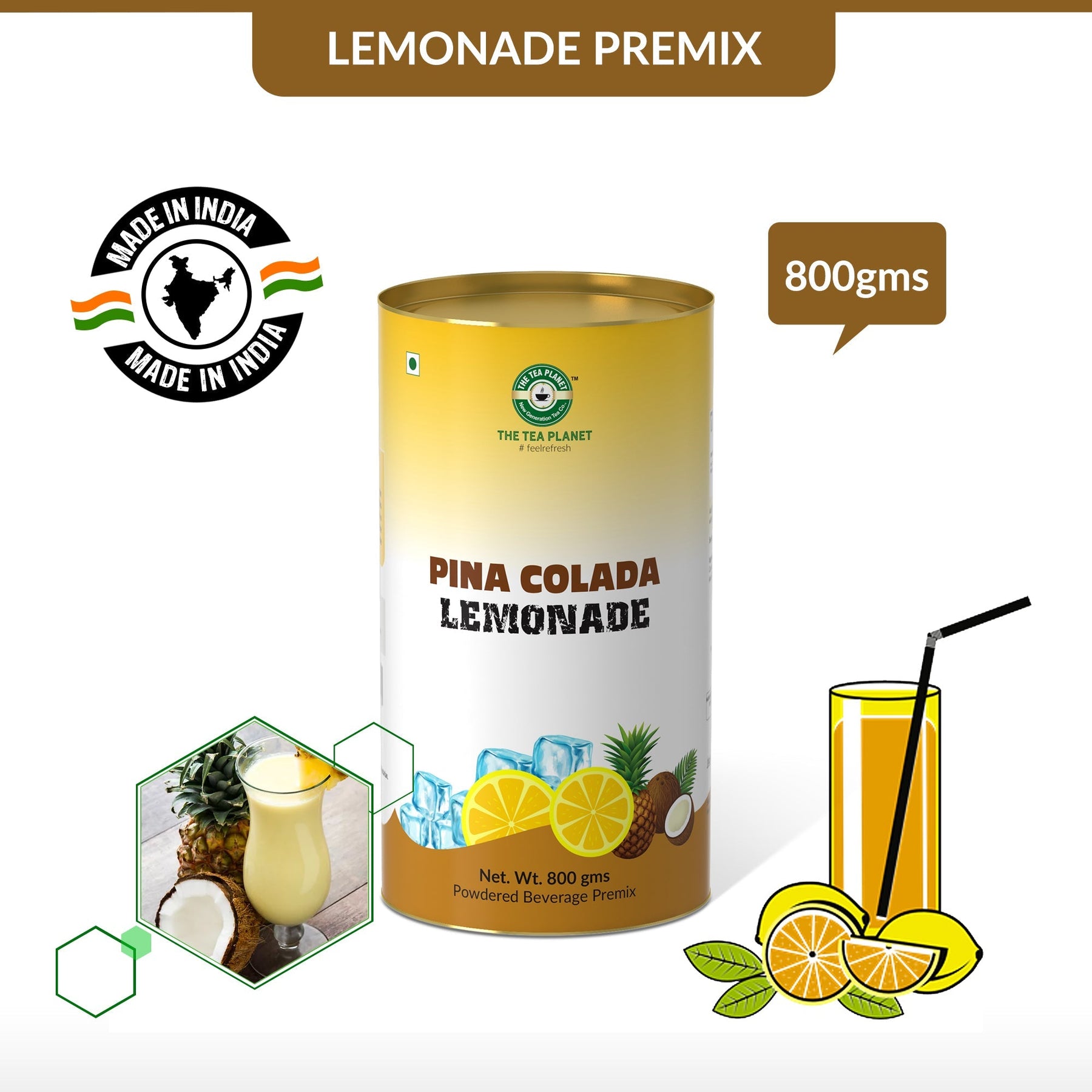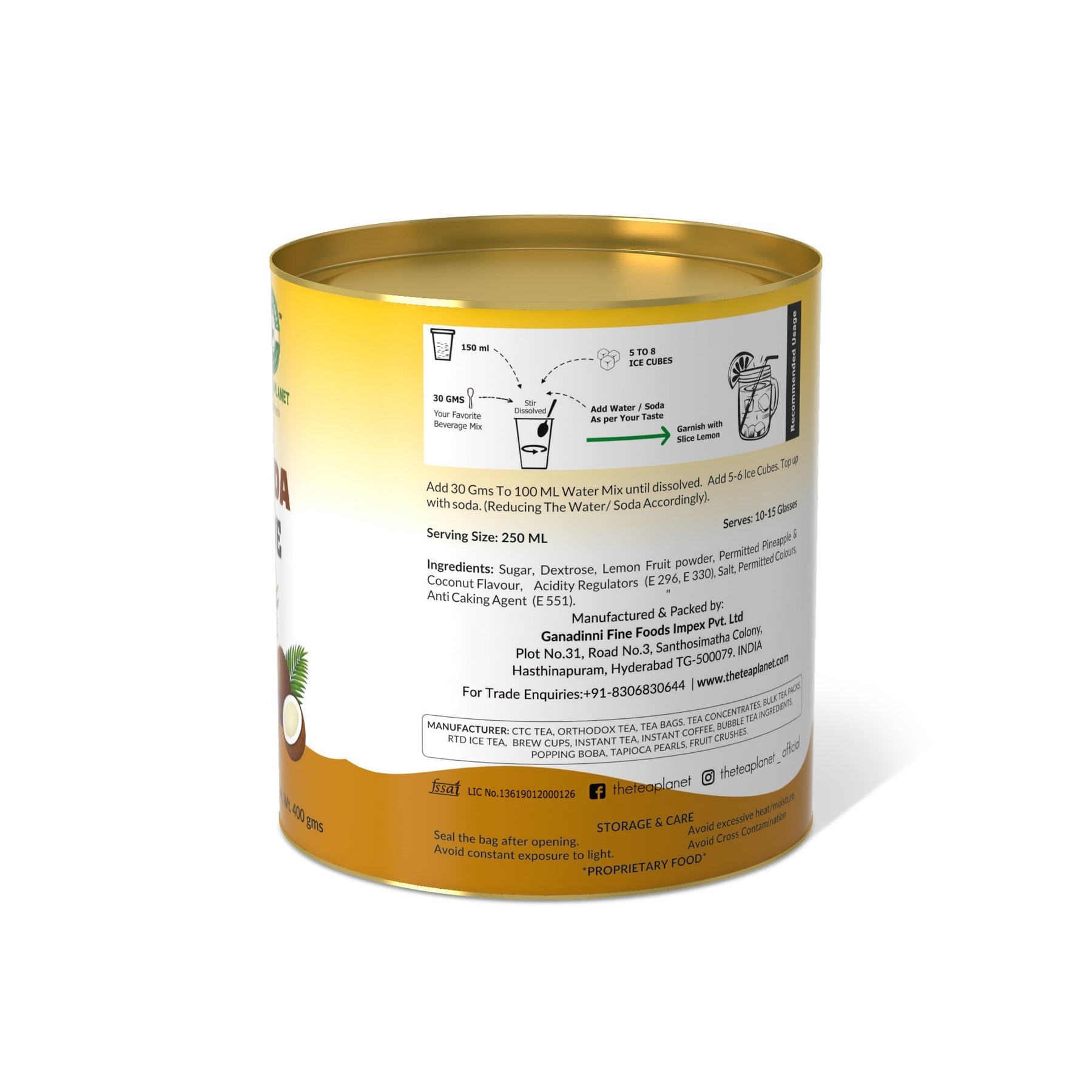 Pina Colada Lemonade Premix - 400 gms
With the first sip, you will immediately be transported to the Caribbean. This blend of coconut and pineapple pairs perfectly with the tangy sweetness of cooling lemonade for a chilled tropical treat. Lemonade is everyone's favourite summer drink, with Tea planet's pina colada lemonade premix, you can really get into vacation mood!
Made from only the freshest and the best quality ingredients.
Contains no artificial colour, artificial aroma or any preservative.
Our other flavours include Lemon Honey Lemonade, Classic Lemonade, Ginger Lemonade, Lemongrass Lemonade, Earl Grey Lemonade, Pink lemonade (Strawberry), Green Apple Lemonade, Black Currant Lemonade, Mojito Mint Lemonade, Pina Colada Lemonade, Elder Flower Lemonade, Jasmine Lemonade, Peach & Passion Fruit Lemonade, Watermelon & Basil Lemonade, Raspberry Lemonade, Blueberry Lemonade, Masala Lemonade, Aloevera Lemonade, Cola Lemonade, Kokum Lemonade.
The Teaplanet's versatile Lemonade Mix is a lemon based concentrate blended into powder with various fruit and herb flavors to make easy, yet refreshing homemade-style lemonades.
Our Lemonade mixes can be used raw, juiced or zested. They can also be used in cooked applications, such as marmalade, curds, jams, and sauces. Also a great addition to cocktails, mocktails, vinaigrettes, syrups, or lemonades.
Ready to be mixed with water with ice cubes and serve immediately.
Our Teaplanet's Lemonade mixes are stored in a convenient, airlock resealable jars that are recyclable and  helps you maintain its freshness for long time.
This product has shelf life of 12 months.Store in a cool and dry place.
The Teaplanets's lemonade mixes are handcrafted, taste tested and expertly blended in small batches to achieve best flavors making every sip worth and for very best lemonade drinking experience.
Exceptional Consistency, Enhanced Taste, Highly Concentrated fruit to achieve best taste in your applications.
Vegetarian - Vegan - Non GMO  - Halal - Kosher - No High Fructose Corn Syrup.
Statements regarding dietary supplements are not intended to diagnose, treat, cure, or prevent any disease or health condition.
Ingredients :
Salt, Dextrose, Sugar, Citric acid, Lemon powder, Pineapple flavour, Coconut Flavour.
Product Type :
Powdered Beverage Premix
Recommended Usage :
Add 25 Gms To 100 ML Water Mix until dissolved. Add 5-6 Ice Cubes. Top up with soda. (Reducing The Water/ Soda Accordingly).
Serving Size :
350 ML
Serves :
40 Glasses
- Seal the bag after opening.
- Avoid excessive heat or moisture.
- Avoid constant exposure to light.
- Avoid Cross Contanimation.
*** PROPRIETARY FOOD