Our teas, your aspirations, and a common goal of great service
Why Collaborate with The Tea Planet?
We carefully create and curate ingredients, premium tea leaves, and coffee beans to create the perfect cuppa and exotic drinks. We will provide you with the technical and creative guidance to package your product to perfection and market it for the best results.
Our passion
We love tea and we want to share the joy of tea-led beverages – iced teas, hot cuppas, blended teas, exotic teas and much more! We are committed to creating beverages that have exceptional taste, give a unique experience, and are created using organic ingredients to promote sustainable choices.
Breadth of portfolio
Our exploration and creation of beverages began with the universally loved tea. We deliver original flavours in handcrafted, taste-tested, and aptly blended small batches. Every sip resonates with the refreshing mood tea drinkers seek with their beverage.
Research & development
We have ongoing research and development for creating fresh blends with new ingredients. We explore packaging and design solutions to best present the beverages and expand reach to new markets with drinks that give a unique experience and appeal to the taste buds.
Latest trends
With our range of speciality teas and other beverages, we are pushing the boundaries by introducing international beverages that are adapted to local tastes. Our beverages are blended, packaged, and marketed to appeal to create a market-wide appeal.
Beverages that define brand identity
Create brand recall with inimitable recipes!
We have created beverage blends and established standards for mixing, packaging, branding, and promoting that have helped The Tea Planet brand to become recognisable. Our extensive study of the global markets, trends, and various products has helped us identify opportunities to build our product catalogue and market them effectively. We understand the pulse of the international F&B markets and our team creates special recipes, concepts, designs, brand names, packaging alternatives, logistics and sales promotion strategies. Our clients and collaborators can adopt our strategies and create a successful product line.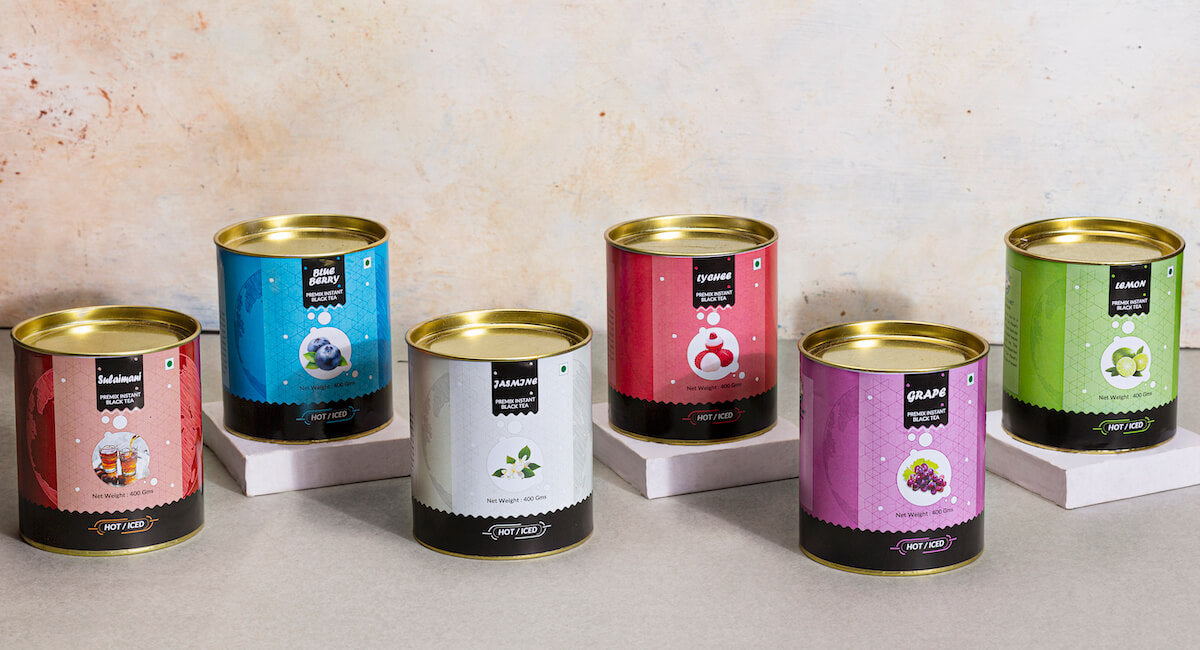 Why choose us?
We are master blenders and beverage marketers
We have built The Tea Planet after spending years studying the markets, learning about different varieties of beverages, and creating unique blends that have a universal appeal. We understand the sensory experience motivated by sight, smell, touch, taste, and sound in enjoying beverages. Our artisan craft blended flavours to engage all senses for a synesthetic experience of a drink.
Sight
We use our understanding of colour psychology to create vibrant colours with natural ingredients for our products so that they look amazing and deliver a greater visual experience.
Aroma
Smell plays a big role in influencing taste and is a big attraction for beverage drinkers who become repeat consumers. Our blends are infused with unique aromas to arouse the olfactory senses.
Touch
We influence the tactile sensations with every sip by blending the drinks for a smooth texture, adjusting viscosity for measured release of flavours, and creating an enhanced experience with every sip.
Taste
Every spice, tea leaf, coffee bean, cacao bean, fruit, and flower is sourced to deliver a refined blend that harmonises taste, texture, and overall beverage experience.
Sound
The universal "aah" that escapes every lip after the first sip is the ultimate seal of approval and we get it with all our drinks. 
We make it, as you like it, as your customer prefers it!
Hot milk dispensers, instant tea, brew cups, tea bags, loose-leaf carton packs, ready-to-drink ice teas, and ayurvedic and herbal blends.
Ingredients sourcing
We travel internationally, attend trade shows, visit farms and plantations, and research and collate ingredients and recipes to create our unique blends. We source liquid flavours, RTD concentrates, herbs, infusions, flavour granules, and wooden boxes from various countries like Egypt, Germany, the USA, and Sri Lanka.
Formulation & Customization
With extensive knowledge of several tea profiles, international palates, and a diverse selection of ingredients, we create original blends. To our partners, we offer our new and exclusive blends, quality assurance, build the supply chain, marketing collaterals, and pricing to support the bottom line and scalable product launch.
Let's discover together what Tea can do for you
Our 360° Tea Consulting
Market & Trend Analysis
We buy our raw materials from different countries and are active in all international consumer markets. We incorporate our market trend projections and market developments into our joint product development.
Packaging & Design Concepts
We share technical aspects of design concepts and advise you on package selection for your brand including design options, print finishings, handling, safety, protection and the best possible utilisation of space during transport.
Tea Training
Customers seeking to renew or expand their product range or deepen their knowledge of tea can receive theoretical and practical instructions from our tea experts. These experts convey everything from basic to product-specific knowledge.
Creative Workshops & marketing support
We offer workshops for marketing and product package designing. We regularly offer workshops on the F&B industry and the art of tea blending. We will analyse your product range and advise on ways to realign your marketing and operations to keep your beverages upbeat and brand fresh.
Let us be your guide to build your brand and Stay Ahead of your Competition
Private Label products continue to gain a greater share of shelf space and beverage consumption among the masses. With our guidance and regular consultation, you can get a roadmap to build your business with differentiators, enhance your company image and expand your market reach.
Invest in Beverage Business today!
Join us for a cup!
CTC Teas, Orthodox Teas, Single Chamber Tea Bags, Pyramid Tea Bags, Beverage Mixes & Toppings.
Different MOQs are depending on the selection of Packing materials and product that needs to be packed.
Yes. We have a special programme where we provide Private Label packing in small runs.
Yes, and we work closely with clients to render their ideas in market-friendly and product-suitable packaging and more to build your brand.
Yes, we do custom blends. We can handle your supply chain and deliver the finished product to your address.
The timeline is subjective on the availability of Raw materials, Samples approval etc.