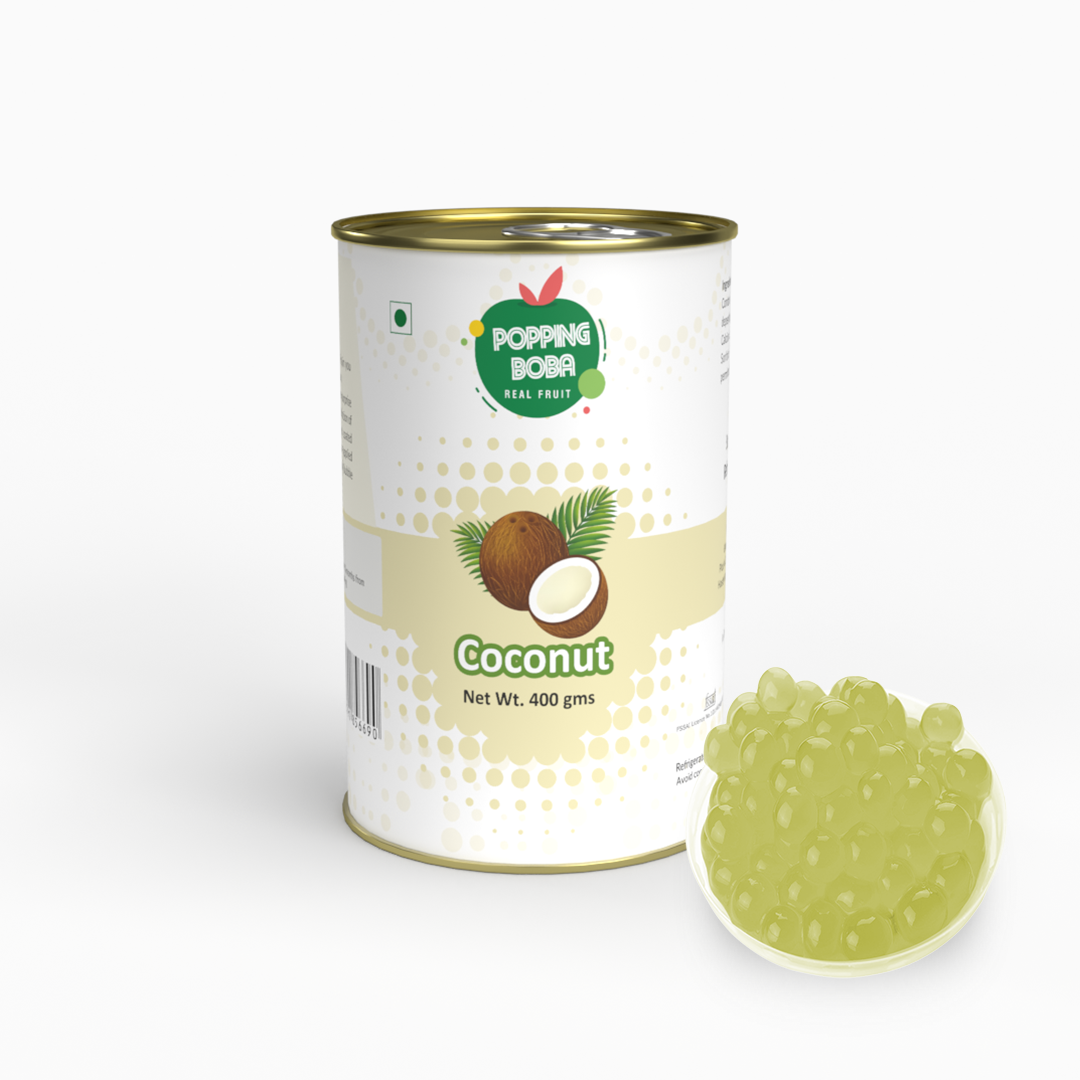 Coconut Popping Boba - 400 gms
A single bite will treat your senses and palate to a tropical yet sweetened aroma of hydrating fresh coconut. Its juicy, sweet and aromatic flesh is a little bit juicy and dense, which makes it perfect to make into a Coconut popping boba! You can also add them to your pudding jelly or cake for a unique presentation. Or Try them in traditional Taiwanese bubble tea drinks, frozen yogurt or any dessert you wish! The world has fallen in love with these and so will you!
●  Heavenly delight of traditional coconut flavor.
●  Made from only the freshest and the best quality ingredients .
●  Contains real fruit.
●  Our other flavors include Blueberry, Raspberry, Strawberry, Peach, Coffee, Blackcurrant, Lychee, Pineapple, Chocolate, Guava, Pomegranate, Watermelon, Coconut, Kiwi, Orange, Ginger, Lemon, Saffron, Green tea, Passion fruit, Green Apple, Cherry, Tropical fruit, Cardamom, Peppermint, Paan pasand, Mojito, Rose, Cranberry, Honey, Chilli pepper, Banana, Honeydew, Hibiscus, Custard apple, Chickoo, Blue Curacao.
●  Excellent topping/bottoms for any desert (frozen yogurt, juices, Mocktails, Bubble Tea Milk Shakes, Ice Cream, cocktail drinks, Shaved snow ice, smoothies).
●  Not suitable for : Hot desserts or Drinks.
●  There is no cooking required. They are ready to serve.
●  This product has shelf life of 9 months. After opening, do refrigerate.
●  Each popping pearl is about 8mm in diameter and burst into real fruit under a bite.
●  Exceptional Consistency, Enhanced Taste, Highly Concentrated fruit to achieve best taste in your applications.
●  Vegetarian - Vegan - Non GMO - Halal - Kosher - No High Fructose Corn Syrup.